Being proactive about your mouth health will have you smiling for years to come. That's because regular dental check-ups by a qualified dental professional can improve your overall health and well-being by catching problems before they start.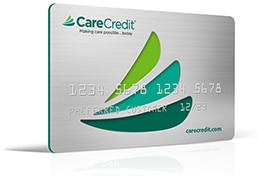 Here are just some of the many dental care procedures and treatments you can use your CareCredit credit card for at De Zavala Dental Care:
Cleanings, Exams and X-rays
Crowns
Tooth-Colored Fillings
Root Canals
Extractions
Dentures & Partials
Bridges
Implant Crowns
Night Guards
Snore Guards
Veneers
CareCredit is different from a regular credit card.
Use it to pay for out-of-pocket expenses not covered by medical insurance, and special financing options are available that you may not be able to get with other cards.
With shorter term financing options of six, 12, 18 or 24 months no interest is charged on purchases of $200 or more when you make the minimum monthly payments and pay the full amount due by the end of the promotional period. If you do not, interest is charged from the original purchase date.*
*Subject to credit approval. Details and Terms
CareCredit also extends longer term healthcare financing for 24, 36, 48 or 60-month periods with Reduced APR and Fixed Monthly Payments Required Until Paid in Full. Purchases of $2,500 or more qualify for the 60-month offer with a 16.9% APR (24, 36 and 48 financing terms are for purchases of $1,000 or more with a 14.9% APR).**
For complete details, see the CareCredit account agreement within your application.
Consult De Zavala Dental Care to see which promotion is right for you. You do not need to select a promotion before you apply.
**Subject to credit approval. Details and Terms